Breezy Village is the second level in Ape Escape 2.
Description
Edit
Breezy village is a small village with some windmills and very few monkeys.
Strategy
Edit
A couple of the monkeys require you to break open boxes with the Stun Club to find them.
The Secret Monkey, Balboa, is a reference to Rocky Balboa, from the Rocky franchise.
The monkey Dozy is known as Loser in the NTSC version and its phrase is "She dumped me."
Time Trial
Edit
The time trial for this level requires you to catch 4 monkeys
Less than 55 seconds for the bronze trophy
Less than 45 seconds for the silver trophy
Less than 35 seconds for the gold trophy
The most efficient way to get the gold trophy is to first make sure you start with the Dash Hoop, Time Net and the Stun Club or Magic Punch. Once you start the time trial first use the Dash Hoop to speed quickly across the bridge. On the other side you should encounter Walter. After catching Walter use the Dash Hoop and go left and there you should find two boxes, break open the left one and catch Jon. After you've taken care of Jon use your Dash Hoop to head up and there you should find a box next to a Tomato Bird, break open the box and catch Dozy. After all that finally head up and behind the building and there you should find Crusty. Using this method it is possible to finish the time trial in under 20 seconds.
This level requires you to catch 4 monkeys the first time you play it.
Dozy
Baboondini
Walter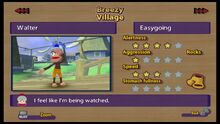 Jon
Crusty
Community content is available under
CC-BY-SA
unless otherwise noted.