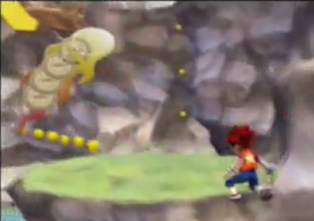 Chips
or
Gold Coins
are currency in the series. They are little chunks of gold found along the levels either from an enemy or right in front of you along a path. Usually they can be found in hidden groups or underwater also. Sometimes near bigger chips, or a
Specter Coin
.
May, or may not be related to Specter Coins.
Chips are vital to collect for a player in order to gain extra lives. When a player starts or has recieved a game over they will have 3 lives but for every 100 chips collected, a life is recieved.
In three, they cannot be used for that as they are used as currency only, in order to buy games, lives, health, and other random objects.
A special chip can be found in levels. Instead of being worth 1 chip they are worth 5 or more points. They are usually found by random encounter with an enemy, or within a group of smaller ones.
Their appearence and use changes with each game.
Ape Escape/On the Loose
Edit
In Ape Escape, and Ape Escape: On the Loose they are simple hollowed out triangles shown to be upside down on a single point. Picking up a bigger one will be worth five points instead of just one.
Ape escape 2
Edit
In Ape Escape 2 as seen above, they are simple coin shapes, but upon collecting so many they turn into silver stars, which doubles/5x the points given for each picked up. Upon picking up enough of them they turn into golden double stars that are 10x the amount. However, these only stay for a few seconds and then revert to their previous stage if not collected quickly.
Ape Escape 3
Edit
In Ape Escape 3 the circles gain a Hexagon/pointed shape. They act the same way as in Ape Escape 2.
In Ape Escape 2 and 3 the chips can upgrade to silver and gold stars.
They are also referred to as Gold Coins in Ape Escape 2.
In Ape Escape 2, the player can't hold more than 999 Gold Coins.