Liberty Island is the first level in Ape Escape 2.
Description
Edit
An island surrounded by several gates with a monkey statue at the center, with spotlights around it
Strategy
Edit
The Slingback Shooter is required to catch one of the monkeys
The statue is based on the Statue of Liberty in New York
This is the first level in Ape Escape 2 that requires you to come back with a gadget unobtainable until later to get a Monkey. In this case you must come back later with the Slingback Shooter in order to shoot the Monkey named Henry off of the side of the Monkey Statue of Liberty and make him catchable.
Time Trial
Edit
The time trial for this level requires you to catch 4 monkeys.
Less than 50 seconds for the bronze trophy
Less than 40 seconds for the silver trophy
Less than 35 seconds for the gold trophy
The most efficient way to get gold is to first make sure you start with the following gadgets the Sky Flyer, the Time Net, the Magic Punch and the Dash Hoop. As soon as you start the time trial make sure to constantly use your Dash Hoop gadget to get around quickly. First dash hoop to George and catch him, after that use your dash hoop to quickly go down the dirt path, bump Libby and catch it. After that jump up to Tomkey Cruise and catch him, and then finally hit the spotlight with the Magic Punch to release Harley Q. Win and catch him as soon as he lands. Using this method it is possible to complete the time trial in under 25 seconds.
This Level requires you to catch 3 monkeys the first time you play it.
Chill (Squat in NTSC Version)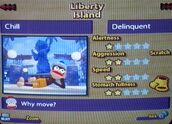 Tomkey Kruise (Cruiser in NTSC Version)