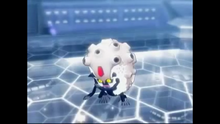 Pipotron Meta (ピポトロンメタ) was a member of the Neo Pipotrons that can turn into anything.
Japanese Voices: Taiten Kusunoki (AEMM), Umeda Kikumi (anime)
Pipotron Meta's species is a Tarsier according to the official Japanese website for Ape Escape Million Monkeys.
In the anime, he almost always says "Gari" at the end of his sentences.
Pipotron Meta is the first Pipotron to die by the Mystery Man.