The Freaky Monkey Five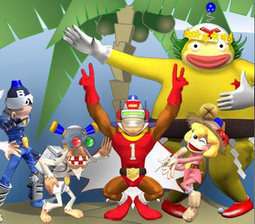 The Freaky Monkey Five, known in Japan as the Ukki Five (ウッキーファイブ), are a group of henchmen working for Specter. An Elite team of Monkeys whose abilities were boosted from a strict diet of Vita-Z Bananas. They can speak in normal English like the humans and are smarter than the average monkey. First appearing in Ape Escape 2, they have appeared in everything except in the English based Cartoon and Ape Escape Move.
They also appear in Saru Get you ~On Air~, although their designs have been heavily changed.
Everyone in the group wears slightly modified Peak Point Helmets.
Ape Escape 2
Edit
Specter reveals how he fed Special Bananas to a group of Monkeys and throughout the game Jimmy encounters them. He catches them all except for Yellow and before his fight with White Monkey, Pipotchi is kidnapped in order to transfer his data from the Peak Point helmet into a device called the Lethargy Laser.
Sometime after his rescue, Jimmy confronts Specter but before the two of them can battle, Yellow Monkey is now a giant monster due to overdosing on Vita-Z Bananas and attacks the base. Specter flees while Jimmy is forced to downsize and capture Yellow.
Ape Escape 3
Edit
The captures go well until Pink runs away before she can be captured. After Monkey Red is caught the group isn't seen for sometime until Specter is captured.
After the credits roll and the player loads their save file, a tape pops up to reveal that Pink had gone into hiding and she mocks the player before explaining that she had freed Specter and the rest of the group. Meaning they must be re-caught.
It is possible that the group is based on the Power Rangers/Super Sentai series.


Community content is available under
CC-BY-SA
unless otherwise noted.